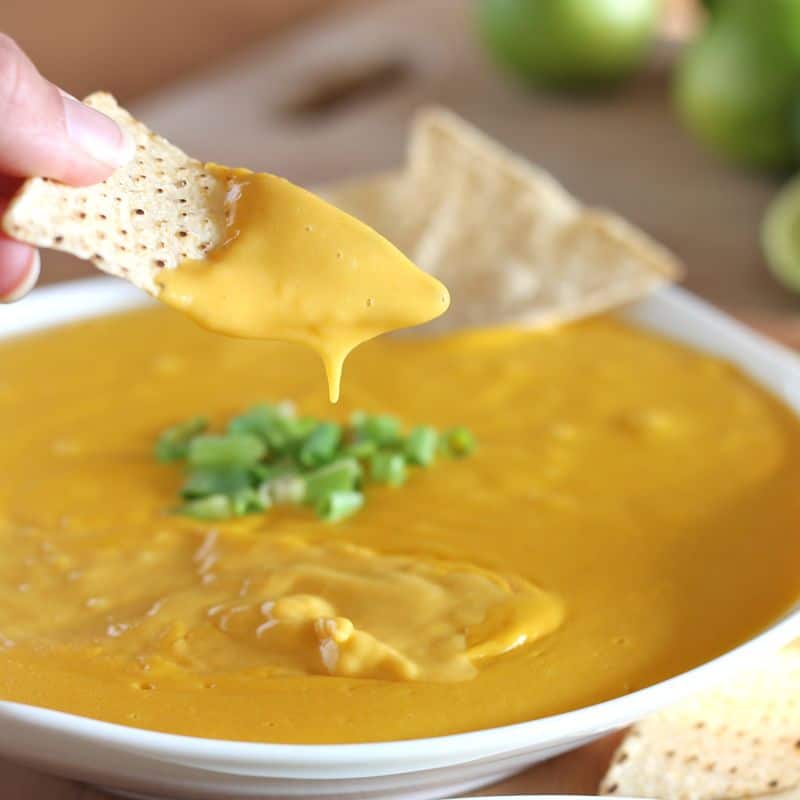 Today I perfected vegan cheese sauce, and it is damn good!! I used it today for nachos, but you can certainly use it for mac n cheese, add it on top of baked potatoes or get your kids to devour their veggies by adding a scoop on top.
Ingredients
Makes 6 Servings
1 TB olive oil
1 small onion, chopped
3 cloves garlic, minced
1/2 jalapeno pepper, seeds removed & finely chopped
2 cups russet potatoes, peeled and chopped
1 cup carrots, peeled and chopped
1 cup raw cashews, roasted * See Note
1/4 cup nutritional yeast
1/4 cup Earth Balance (vegan butter), melted
1 1/2 teaspoons sea salt
1/2 tsp garlic powder
1/4 cup pimentos, drained
2 tablespoon lemon juice
1/4 teaspoon white pepper
Instructions
Heat the olive oil over medium high in a saute pan. Add the onions, garlic and jalapeno and cook until soft, about 5-7 minutes. Remove from heat and allow to cool slightly.
Add the chopped potatoes and carrots to a sauce pan and cover with water by about 2 inches. Bring to a boil and cook until veggies are soft. Remove from heat but do not drain.
Add cooked veggies with the cooking water to a high powdered blender, along with the onion mixture.
Add remaining ingredients and blend on high until sauce is creamy and smooth.
Note: To roast cashews, add to a baking sheet and put in the oven at 350 for about 8 minutes. Check after 5 minutes and give the baking sheet a little shake.